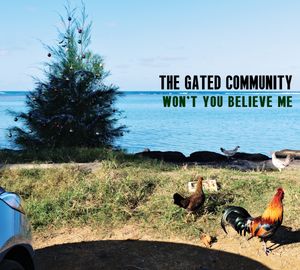 We're so excited that our new album Won't You Believe Me is now available! It's already gotten some nice airplay across Minnesota, and we're really proud of it. Recorded in the shadow of the Trump era, it packs our usual political punch with songs like "Too Late" and "I'm Sorry You're Crazy." But continuing where our last album Country Hymn left off, this release goes beyond political satire to address real personal loss.
In 2017, our bandmate Johnny Becker died unexpectedly. Recorded in the wake of his passing, Won't You Believe Me is dedicated to his memory and even includes some musical contributions he made before his passing, including the mandolin part to "Too Late," which he composed a week before his death. His widow Rosie Harris, a long-term member of the band, is also featured on the album, singing and playing cello. 
Although the album mostly contains originals, there are two covers on the album, including a raucous stringband version of the Minor Threat song "Filler" and a tribute to Bruce Springsteen on the occasion of his 70th birthday. The band does a sad, lilting interpretation of his iconic anti-war song "Born in the U.S.A." along with "Born to Lose," an original song written in response to "Born to Run."
Landing somewhere between The Magnetic Fields and Steve Earle, we think this is our best album yet, and we can't wait for you to hear it!